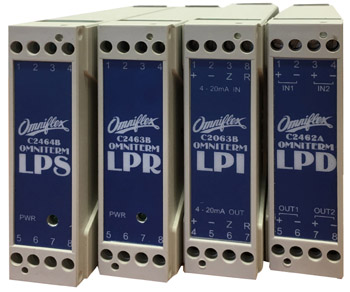 Instrument loop problems are frustrating at the best of times and can be really time consuming affairs to deal with. Most of the time these problems are related to isolation and ground faults. Thankfully, eliminating these problems is now quick and easy with the Omniterm LPI, LPD LPR and LPS DIN Rail Mount Current Loop Isolators and Repeaters.
Utilising the latest electronic techniques to achieve extremely high accuracy with minimum loop losses and zero field calibration, these modules are designed to isolate instrument current loops from circulating ground currents, thereby preventing system inaccuracies and at worst instrument failures.
LPI & LPD Applications:- Use the LPI to remove ground current loops in 4-20mA current loops where power is unavailable. LPD is a dual version, incorporating two LPI's in a single 22.5mm housing, ideal for when space is at a premium.
LPR and LPS Applications:- The LPR (Repeater) and LPS (Splitter) modules are specifically designed for applications where additional current loop signals are required from an existing current loop and are  designed in such a way that they have minimal effect on the impedance of the existing current loop.
Also use the LPR to increase 4-20mA drive capability or add additional instruments to an existing current loop. Use the LPS to create two independently isolated current loops from a single input loop or add instruments to an existing current loop.

Features of Loop Isolators - Single (LPI) and Dual (LPD)
• No field calibration required
• Unique loop break protection
• Extremely low insertion loss to avoid loop overload  
• Operates over 0-50mA allowing loop errors and overload conditions to be properly detected
• Suitable for SIL1 applications
Features of Loop Repeaters (LPR) and Splitters (LPS)
• 1kohm load drive capability on repeated current signal, allowing additional instruments to be added to an overloaded loop
• Isolation on repeated current allows grounded instruments to be added without any worry of creating ground loops.
• Extremely low insertion loss to avoid loop overload
• Suitable for SIL1 applications
Solve all your Current Loop issues today!
All modules are available ex stock.
Refer to datasheet links below for full technical data.
For the LPI/LPD, click here and for the LPR/LPS, click here.

As published on the SA Instrumentation and Control website.

Copyright © 2017 Omniflex (Pty) Ltd, All rights reserved.
For further information, please contact us on:
sales@omniflex.com
or visit our website at www.omniflex.com


Trackbacks
Show preview

Omniflex Blog