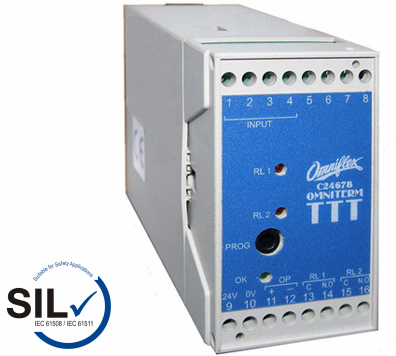 Never has a single off-the-shelf device incorporating so many features been available before now. Features such as Universal Input, 16-point linearisation, two "rate of change" or alarm trips, with retransmit output in mA, V or pulse are now available on the revolutionary Omniterm TTT Trip Amplifier.
The OMNITERM TTT Universal Input Dual Trip Module with additional Transmitter Output is designed for the widest range of signal conditioning and alarm/trip applications in a single off-the-shelf product, using advanced state-of-the-art digital measurement techniques, combined with extremely user friendly software configurability.
The input will accommodate most thermocouple and resistance bulb types, as well as voltages and currents from 1mV minimum to 10Vdc maximum input span.
This module has both Analogue transmitter output as well as two fully configurable alarm/trip relay contacts with "rate of change" alarms built in.

Benefits
• Reduced stock holding
• DIN Rail or surface mountable
• 20 - 30V dc powered
• 1500Vac Isolation Input/Output/Power Supply
• Fault Type LED Indication
• User friendly configuration software
• Wide operating temperature range
• Linearised for all standard input types
• Special function options included as standard

Features
• TC/mA/mV/VC/RB universal input in one product
• Two Independent Alarm Contacts
• 2A / 30Vdc contact rating
• 0-20mA / 0-±10V / 0-±10mA universal output
• Built-in "rate of change" alarms
• 24Vdc powered
• Three port isolation to 1500Vac
• Software configurable
• Output overload detection
• Meets IEC 61508 SIL1 criteria.

Please click here to download the Datasheet

As published on the SA Instrumentation and Control website.

Copyright © 2017 Omniflex (Pty) Ltd, All rights reserved.
For further information, please contact us on:
sales@omniflex.com
or visit our website at www.omniflex.com