Subscribing to our Blog is easy!

Open up the webpage "www.omniflex.com/blog" and on the right side of the Blog, there are two headings; "Categories" and "Syndicate This Blog" as shown.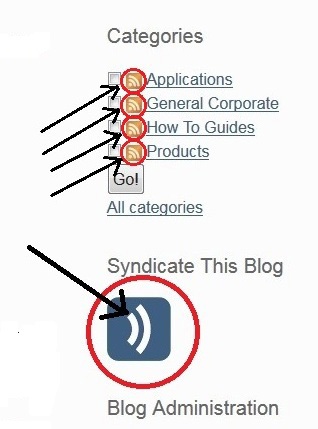 Just click on any of icons on the webpage as indicated. This will open up in your browser and the browser will indicate when new articles appear.

You can either subscribe to all our articles by clicking on the icon below "Syndicate This Blog" OR you can subscribe to the various categories located under "Categories".

If a page of data appears instead of an option to subscribe, you may need to add an extension or "add on" to the browser to enable this subscription. Search for "RSS Extension" along with the name of the browser such as "RSS Extension Chrome".


Copyright © 2017 Omniflex (Pty) Ltd, All rights reserved.
For further information, please contact us on:
sales@omniflex.com
or visit our website at www.omniflex.com

Trackbacks
Show preview

How to Subscribe to our Blog | Omniflex Blog