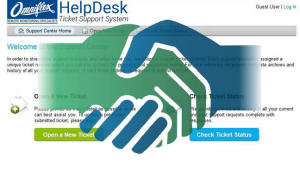 In today's fast changing world of electronics, it's all too common for the consumer to see new products become obsolete within months of purchase. We know that in industrial plants this can cause havoc. Omniflex products have been supplied to the process control industry worldwide for over 50 years and we continue to support all of these products regardless of their age for as long as they are operational in your plant even including products under the old Conlog brand!

In line with this commitment, Omniflex has launched an online Help Desk Ticketing System which can be accessed at https://www.omniflex.com/helpdesk or located under "Technical Helpdesk" under the "Support" menu of the Omniflex website.

This now provides a more convenient method for our customers to obtain support for any of our products no matter when they were purchased!


Copyright © 2019 Omniflex (Pty) Ltd, All rights reserved.
For further information, please contact us on:
sales@omniflex.com
or visit our website at www.omniflex.com