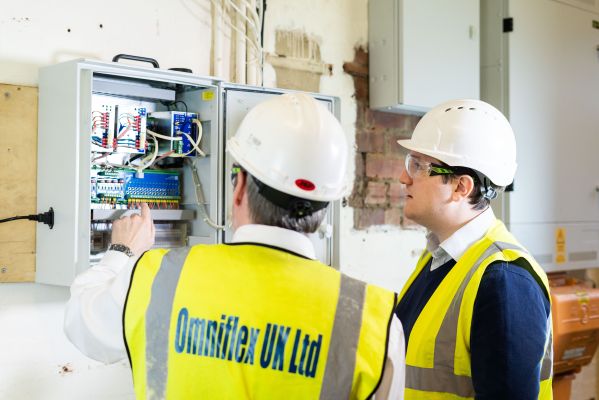 The nuclear industry is unique. Arguably, no industry is more regulated and there isn't another sector where mission-critical safety systems matter more.
Remote monitoring specialist Omniflex has launched its nuclear safety whitepaper, discussing how to improve on-site safety by networking radiological monitors and updating alarm systems to SIL-standards. The whitepaper can be downloaded, free of charge from our website.

Radiological monitoring, and the recording of historical data, is a key part of managing nuclear site safety in line with regulations set by the Health and Safety Executive and the Office of Nuclear Regulators. To meet these requirements and navigate the decommissioning phase at the Sellafield nuclear site, The National Nuclear Laboratory (NNL) and Sellafield Ltd. engaged Omniflex to engineer commercial off-the-shelf (COTS) products to network their radiation monitors. This led to the creation of Omniflex's Radiological Protection Node 1 (RPN1) and W3 Wireless Interface Node.

"The work done on the NNL project alone led to a saving of over £1 million in costs and ensured that time spent by personnel in radiologically active areas was greatly reduced," explained Gary Bradshaw, director at Omniflex. "Furthermore, because of the benefits offered by our plug-and-play systems in terms of networking radiological monitors, Omniflex is now the preferred technology partner for Sellafield Ltd.

"The technological innovations in the RPN1 led to Omniflex winning the Nuclear Decommissioning Authority's Innovation Award in 2016. It's important that the nuclear industry continues to push the boundaries of what COTS systems can offer by working with manufacturers to develop new technologies that meet industry demands."

Networking radiological monitors isn't the only way that Omniflex is helping nuclear sites improve site safety. Omniflex's range of alarm annunciators is the world's first to be substantiated by EMPHASIS for use in SIL applications in the nuclear industry and the company is now the standard approved supplier of SIL-rated alarm annunciators for the UK's nuclear industry.

"The SIL-rating shows that Omniflex's alarm annunciators have been independently assessed and certified to a high standard," continued Bradshaw. "This gives plant managers the confidence they need that the systems they rely on to keep their sites running safely wont fail them at the crucial moment."

Omniflex has over 55 years of experience as an industrial alarm annunciation specialist and is now the standard approved supplier of SIL-rated alarm annunciators for the UK's nuclear industry.

In the nuclear industry, where saving money and improving safety don't often go hand-in-hand, Omniflex is bringing the two together. To find out more, visit the Omniflex website and download the whitepaper .

Download the white paper here.


Stay in touch with us on Facebook, Twitter, and LinkedIn!




Copyright © 2020 Omniflex (Pty) Ltd, All rights reserved.
For further information, please contact us on:
sales@omniflex.com
or visit our website at www.omniflex.com