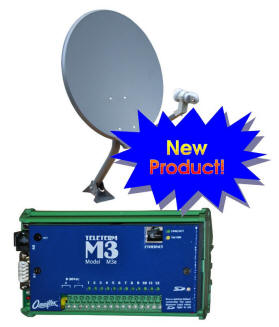 The Teleterm M3 RTU now boasts a satellite communications option to the Omniflex Web based Data2Desktop Datacentre. GSM communication although ubiquitous has its limits in global reach and isolated geographical regions. The benefit of Satellite communications is that it bridges those gaps adequately and with cost benefit ratios reducing all the time, satellite communications becomes a good option for remote monitoring.

The Satellite link provides Data2Desktop the "Omniflex Web based data portal" with a third option for communication in remote monitoring applications. Teleterm remote monitoring users now have the option of a Satellite link or Ethernet or GSM link depending on the infrastructure availability.

While satellite communication services are more expensive than GSM services, it's cost benefit ratio is still very attractive for many applications in remote monitoring

Summary of Teleterm M3 Communications Options and Range:
Copper
• RS232/RS485 Modbus; up to 1000m with RS485
• Ethernet Modbus TCP limited by Switch infrastructure or VPN
• Twisted Pair Conet up to 10km on shielded twisted pair (Perfect for Last Mile)

Wireless
• High Inter-channel Galvanic Isolation (500Vac rms)
• License free band Radio up to 20km (frequency band dependent)
• GSM Unlimited distance (infrastructure dependent)
• Satellite unlimited distance (infrastructure dependent)

Satellite Features
• Low Power enables solar power usage.
• Operates off 12 or 24Vdc supply.
• Easy field installation for Antenna
• Receive Data2Desktop SMS commands

Benefits
• Off the shelf satellite solution
• Data coverage globally
• Factory Pre Test
• Quick Installation and Implementation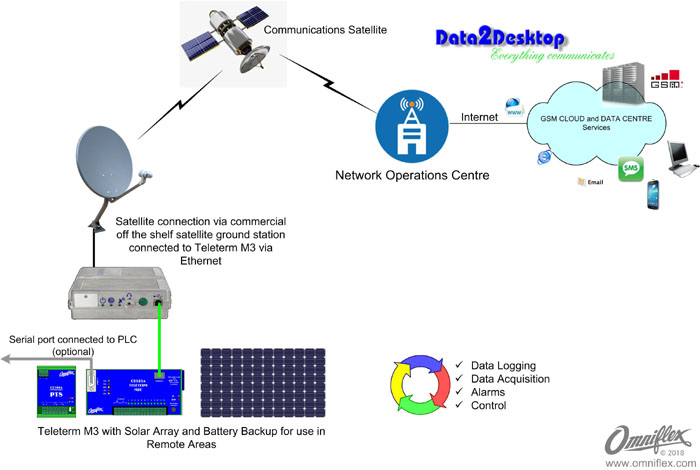 Overview of Satellite Communications

Click here to read more about the Teleterm M3 Series RTUs.


Stay in touch with us on Facebook, Twitter, and LinkedIn!




Copyright © 2019 Omniflex (Pty) Ltd, All rights reserved.
For further information, please contact us on:
sales@omniflex.com
or visit our website at www.omniflex.com